Hi Stewart,
I was using 2.3.D2 earlier, and I see that you've already fixed a few things from that in D3
This pic shows a problem with roughing in D2 & D3. The part grows wider from the top down to mid-height, so outside outlines expand as they go down the upper part of the part. The roughing pass clears material over the part, but does not clear material around the upper part of the the part over material that lower outlines grow out into:

So I made a pocket around the part to induce the roughing that I wanted: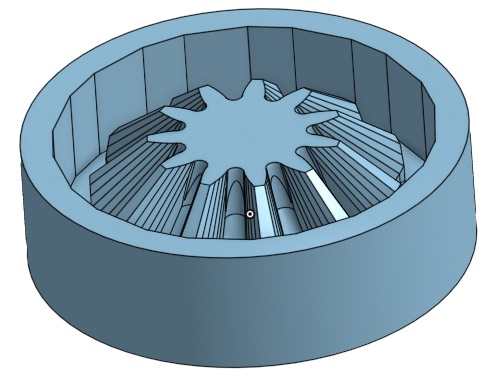 That worked in D2.
(There is no hole because I wanted to rough the hole and teeth separately and I didn't see a way to do that. Today I'm not sure I would want to separate those operations again, assuming depth-first, so this isn't about that.)
Today in D3 the same fails with an error:
"TypeError: Cannot read property 'clone' of undefined"
The hexagonal example I've been using also induces the TypeError.
Reversing the layer numbering makes sense.
I'll email STL & b64.