Hi there!

I am one third of the danish startup called SimplyPrint. We aim to make 3D-printing easier and better. For this, we of course need an integrated slicer in our system, and rather than struggling with creating one ourselves, we disovered Kiri:Moto about half a year ago, and have been working with @stewart to integrate the slicer in our system. We launched a beta version of our system about a week ago in denmark (international release coming soon), and had most of the slicer ready by then! It's still in active development, but here is what we've got so far;
Overview
As our system manages your printers and allows you to manage your filament as well, you can select which one of your printers you want to slice for, and we'll automatically set all the parameters such as bed size. Each printer also has a roll of filament attached, which holds all the heating properties, which is also applied to the slicer settings automatically.

---
Settings
All the settings are accessible from an accordion in the right side, with collapsable option groups, and the possibility of "starring" settings you use frequently. The settings and slicing profiles are tied to your SimplyPrint profile, so wherever you go, you've got your settings online, in your browser!
---
Gcode profiles, filament & printer settings
The "start" and "end" GCODE profiles have often been something we, with a lot of different printer models, have found frustrating to work with in slicers. Because of this we have made a "GCODE profiles" system, where you can have a lot of GCODE scripts, and mix n' match them in different scenarios, like "start" or "end" GCODE. This can be done per. printer type, and is automatically placed in the slicer
---
More images
Filament select
Filament system in the SimplyPrint panel
Printer select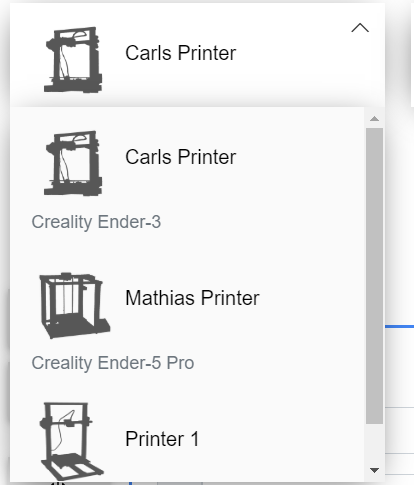 Scaling
Once sliced…
The GCODE file can be sent directly to your 3D-printer with one click, which is the essence of it all - having a more streamlined way of 3D-printing, that doesn't involve a lot of different software and SD cards - all wirelessly, done on one platform (except for CAD, sadly)
---
We have used Kiri:Moto and been in touch with Stewart regarding the project for about half a year now, and there's a lot of more work to do before we are where we want to be, but it's a great start, and so far with the result being a very good slicer, that my partner who got his first 3D-printer 6 years ago, would rather use than Cura or anything else.
Will post progress in this post in the future

Once again, thanks to Stewart for this amazing slicer & set of tools! Looking forward to seeing what the future brings.