(edit: stop and read this other topic first, which may or may not nullify this)
This is not a current problem for me because I don't use this function (that might be another topic, but not this one).
I was looking at roughing inside voids with "clear voids" not selected. For simple straight-sided through-holes – no fancy geometry. I would expect a single perimeter circuit equivalent to the outermost circuit generated with "clear voids" selected. Instead I get … lots of different things.
Here is an example workspace that cuts a simple flat piece in a single layer. Different combinations of tool size, "leave stock" and stepover produce very different results. I wouldn't have expected stepover to matter at all.
insideroughs.kmz (110.1 KB)
examples:
(edit: expand image to see tool paths)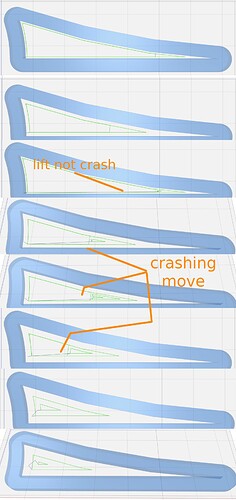 It looks like maybe it's trying to do something smart with acute corners that would help with clearing area when stepover > 0.5. ??. But that wouldn't matter when stepover is < 0.5, or when not trying to clear area at all. ??. If so, that seems like something that would matter more when running with "clear voids" selected. But "clear voids" turns off all the unexpected behavior and generates an simple series of offsets – with no attempt to specially handle acute corners and large offsets.