Hello everyone,
I have been working to learn Kiri for some time now but am still a complete novice!
I am trying to create a work flow from blender through to cnc using kiri and candle.
So far i have learned a lot in blender but it has taken me six months but I am pleased with how my work can be visualised in 3d, I have now started to cut small objects and have even managed to use the "flip" operator to good success.
unfortunately my understanding of the tool paths is limited and a bit confusing.
If I add a roughing path with a 1/4 bit and then a cutout with a 1/8 bit and download the gcode, will my machine stop for a tool change? I know you might be thinking I should just try it out but I am in my third year at uni in london and my cnc is in cambridge and I never get the time to turn it on but I do get time to go through the pc side of things once in a while. When I used the flip operator I crated a roughing path then I downloaded the g code for that side then deleted it, then flipped and added the other path for the reverse side then ran the the 2 codes separately !
Also I would like to cut mitre joints with a 90 degree or 45 degree bit such as one like this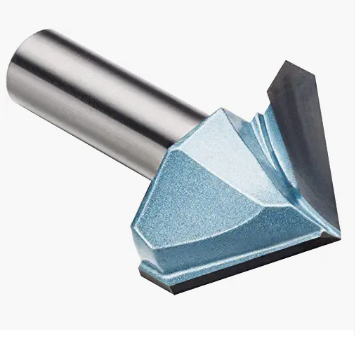 the problem in my mind is that i dont know how to add the tool to the library correctly .
I know I could just jog the cnc via candle to make a cut but the stock wood I am using is thicker than the bit is deeper so it will have to be cnc'ed.
I truly do have tonnes of questions but I don't want to be black listed on my first post here. Needless to say I have been reading as much as I can and trying to find the answers but i'm starting to get snowed under with my 3rd year project.
Many many thanks for any help in advance.
Brian.